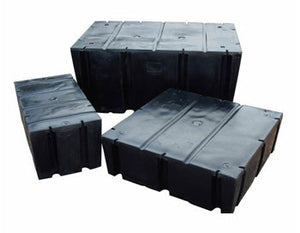 3x4x8 Float Drum - 430# Buoyancy
Regular price $138.91 Sale
Insul-Bead's encapsulated flotation design offers maximum buoyancy and engineering integrity. This is accomplished by keeping our corners square and our sides tapered, with reinforcement gussets to a minimum. This superior design offers strong corners and allows a straight corner line from the top of the dock to the water.
• 15 Year Prorated Warranty
• Heavy Wall thickness .150"
• Heavy mounting flanges
• Square-reinforced corners
• Foam filled 1.0-1.5 lb density
• Resists saltwater, oil, gasoline and marine life
• Fits new or old wood, steel or aluminum frames
• Roto-molded polyethylene shell
• Shell made with UV inhibitors
• Meets "Hunt" Water Absorption Test
• Meets Army Corps of Engineers standard
• Fits Removable and Permanent Docks
• Earth Friendly Manufacturing